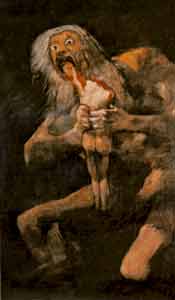 The dark Spanish melancholy
that informs director Guillermo del Toro's small masterpiece of magic realism, gives this film unforgettable power. As dark as any Zurbarán or Ribera,
Pan's Labyrinth
interweaves two worlds and two realities — that of a child's fairytale longings, and the ruthless fascism of Franco's Spain.
If it sounds like a marriage of hope and hell, it is — but the ending alone, which spins yet another uncanny twist, is pure enchantment. Del Toro's imagination
(Hellboy
) provides visuals that evoke Cocteau and Buñuel, with a healthy dose of Brothers Grimm as visualized by Frida Kahlo. The deeply saturated colors of the film stock add to the mood of otherworldly adventure.
Our protagonist is a dreamy young girl Ofelia (Ivana Baquero), who goes to live at a rural millhouse occupied by Franco's soldiers. Ofelia's mother has married Capitan Vidal (the astonishing Sergi Lopez), a cold-blooded monster who cares only for the fact that the mother is pregnant with his child. Very quickly we, and Ofelia, encounter a secret underworld, complete with labyrinth, crumbling ruins, gossamer fairies — amazing art direction — and a spirit guide. The latter is the Pan of the film's title, a harsh-but-kindly master who asks Ofelia to perform three tasks in order to take her rightful place as princess of a lost kingdom.
In Hollywood's hands, such a scenario might amount to a sanitized Alice in Wonderland caper. In del Toro's vision, the underworld mirrors the increasing danger to Ofelia's household, and the brave partisans hiding out in the nearby forest. More psychological than political,
Pan's Labyrinth
reminds us how we felt when we were 12-years-old, especially in dangerous, or unsettling circumstances —when we longed to slip into another realm where beauty and magic ruled. And where we felt safe. But this dialogue between fantasy and horror refuses to comply with our Hallmark needs, and the scenes of wartime brutality are echoed in demonic corridors beneath the floors, and behind the bedroom walls. Among the triumphs of this magical tour de force is the creation of what has to be the most grotesque and mesmerizing monster brought to the screen. Straight out of Goya, this macabre creature is more than matched by the human monster, embodied by the charismatic Capitan.
It will be clear to viewers who have encountered shamanic journeying, that Pan and his shape-shifting cohorts are spirit guides. On this deeper level, the film illustrates the subterranean psychology of secrets. Secrets — both isolating and comforting. On one level of the film's oneiric odyssey, Ofelia's secret life creates a refuge from the pain of her loneliness. On another, the secrets kept by her partisan housekeeper breed a dangerous isolation — and threaten the very possibility for survival during the last days of WWII.
Too harsh for young viewers, this is a film for those who believe in a harrowing, and bittersweet variety of redemption. Like
Babel
,
Pan's Labyrinth
thrives on splendid casting and ingenious camerawork. And a ravishing score by Javier Navarrete. An Oscar for Best Foreign Film.